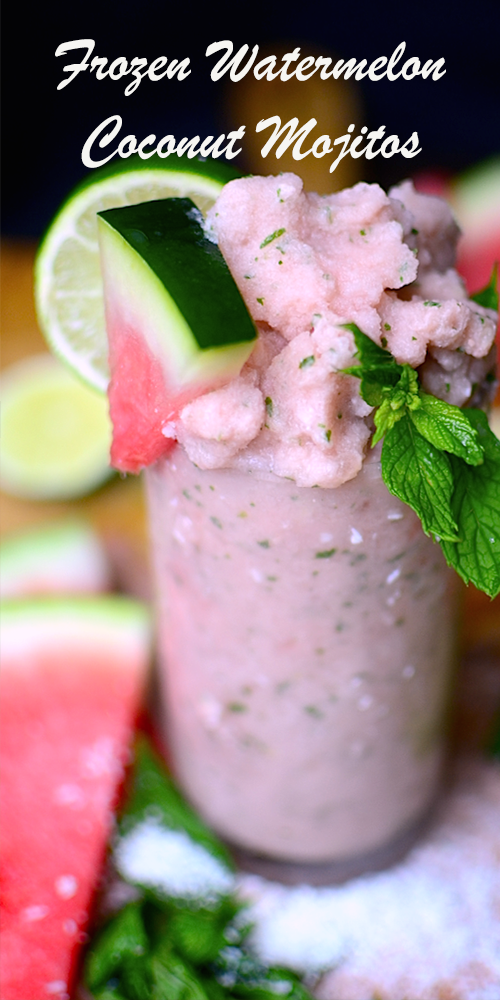 Being a stereotypical pregnant woman, this was very exciting for me. I waited for days for the perfect moment to break into it.
As soon as a craving struck, I split it open. It had given a deceivingly juicy sounding crack, but I was horrified to see before me not the succulent, bright color I had been dreaming of, but rather the pale pink flesh of an underripe watermelon.
I really almost cried. I'm not kidding. Like I said, stereotypical pregnant woman.
I grabbed my biggest knife and hacked that watermelon to bits. Then I stood there looking at the mess with my crazed eyes, panting as I wiped a chunk of the flesh off of my face. There was nothing but the sound of a steady drip of juice as it hit the floor.
What have I done?
I had to hide the evidence. I threw all the chunks in a pan and stuffed it in the freezer.
The next day, an idea came to my mind…
Frozen watermelon coconut mojito. Yes.
And what do you know? I already happened to have some watermelon in the freezer.
I heard about the heat wave you guys are having over there in America. We're actually having a little heat wave of our own. Before this week, Berlin was still experiencing sweatshirt weather. Yes, sweatshirts in the middle of the day in July. It's a crime.
But today I woke up to a toasty 73ºF, sweating like a fiend. I know, kind of pathetic, but there you have it.
This weather calls for the most refreshing summer mixed drink that has ever graced my lips. Really, it's not even a question. As much as I adore piña coladas, and even piña colada flavored things (see here and here), this drink has them beat in the refreshingness department.
When Samuel saw me taking pictures, he said, "Wow, looks good! What's the on the rim of the glass? Sugar or something?"
"OH NOTHING. HEH HEH. NEVERMIND," I said, laughing nervously.
"Okay, why are you talking in caps lock?"
"OH NO REASON. JUST PAY NO ATTENTION TO WHAT I'M DOING HERE."
"Wait…. is that… coconut????"
"Yes! Okay it's coconut, but it's only on the edge!"
He looked skeptical.
"Don't worry, it can be wiped off."
I can't relate to coconut hating tastebuds. Funny I married some
Since I didn't actually add any coconut rum (deja vu?) to this (thanks to this high maintenance little baby in my belly), the coconut flavor really wasn't very strong. I brought the finished product over to Samuel.
"Want to try it?" I said between slurps.
"It has coconut," he said, hardly looking up.
"You might not taste it," I said, nudging the straw toward him.
He sighed and took a cautious sip. Then a tentative gulp. A thoughtful slurp.
"Well?"
"It is good." Slurp slurp.
And if his approval doesn't get you, maybe the fun, creamy pink color will. Or how about the confetti of mint leaves flecked throughout? Or maybe the cute, tiny, (actually ripe, I might add) little watermelon wedge on the side?
By the way, you don't even need a crazy high powered blender for this. I only have a tiny food processor I got for ten bucks and it cut through this watermelon just fine. Just remember, if your blender or food processor is as pathetic as mine, you'll just want to thaw the watermelon chunks a little bit on the counter before blending
Frozen Watermelon Coconut Mojitos 

Serves 2
1 can coconut cream (full fat coconut milk would also work)
1/4 cup lime juice (about two small limes)
20 fresh mint leaves
6 cups watermelon, chopped pretty small and frozen
About 1/2 cup coconut rum (leave out for a refreshing non-alcoholic drink!)
Desiccated coconut, lime wedges, mint sprigs, and watermelon wedges for serving
Open the can of coconut cream. You will have two separate layers of coconut milk, a thick creamy layer and a syrupy watery layer. Scoop about 1/2 cup of the creamy part and 1/4 cup of the watery part into your blender (if using full fat coconut, just shake it up and use 3/4 cup of it).
Combine it with the lime juice and mint leaves in the blender and blend until smooth. Add the frozen watermelon chunks a little at a time and blend until smooth, adding more coconut water if necessary (if your blender isn't very strong (like mine) allow your watermelon to thaw for about 20 minutes first). Add rum. Adjust all ingredients to taste and blend until smooth.
Dip the rims of the glasses in the water and sprinkle some desiccated coconut on. Pour the drinks in and then top with a lime wedge and a watermelon wedge and sprig of mint. Enjoy!