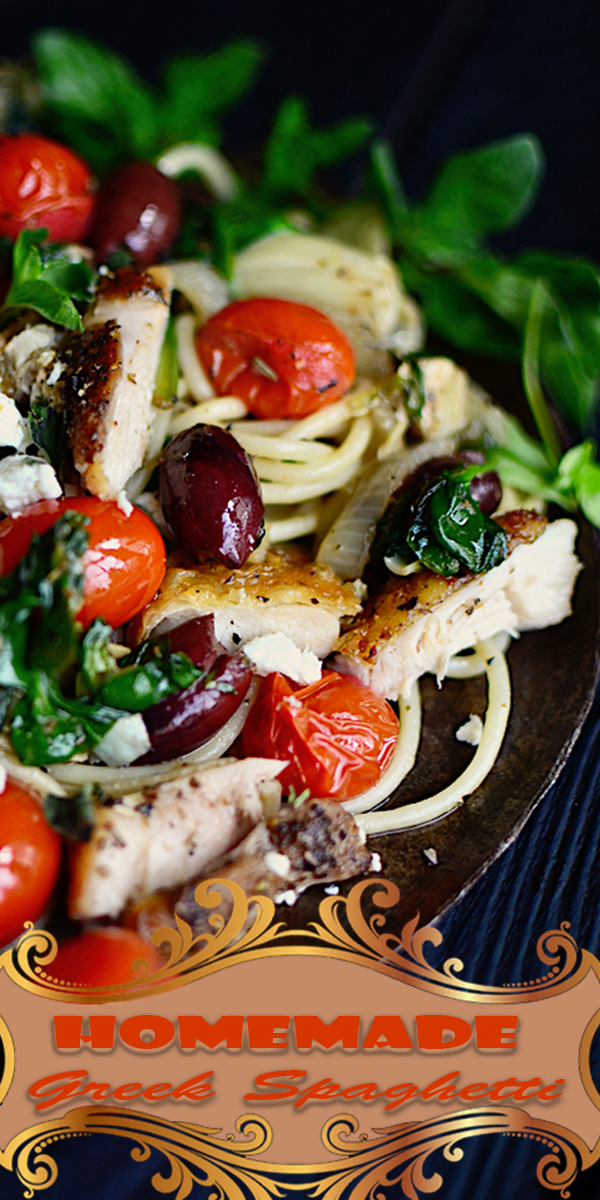 You know the feeling.
5 o' clock is rolling on in and you still have no dinner plans. You look in the cupboard and find a box of spaghetti noodles.
"Hello, old friend," you say to yourself.
You thaw a brick of ground beef in the microwave and get out the familiar can of Ragu (or Prego! I don't mean to offend the other party).
Well, this spaghetti is for one of those nights. Only instead of ending the meal saying, "Well, I am no longer hungry," you will begin dancing and singing for joy at the amazing sensations that your palate has just experienced.
So, get ready to change your life by always keeping a jar of Kalamata olives and artichokes handy. This one is about to become a regular.
Homemade Greek Spaghetti

Serves about 4
A few tablespoons olive oil
1 teaspoon dried oregano
Salt and pepper (freshly cracked is best)
2 boneless skinless chicken thighs (or breasts if you prefer white meat)
1/2 pound (or 1/2 box) spaghetti noodles (You can also use GF spaghetti)
2 cloves garlic, thinly sliced or minced
1 small onion, diced (I used yellow, but red would be even better)
1 cup fresh spinach, roughly chopped
1/3 cup Kalamata olives, pitted
1/3 cup cherry tomatoes
1/3 cup canned artichoke hearts, roughly chopped (if they're marinated, all the better)
A few sprigs of fresh oregano
Feta cheese for serving
Heat the oil in the pan and season the chicken generously with salt, pepper, and dried oregano. Cook the chicken over medium heat, covered, for about 10 minutes per side or until an internal thermometer reads 165ºF. Remove the chicken from the pan and set aside.
Cook the spaghetti according to package directions.
Add a couple more tablespoons of olive oil to the pan (if necessary) and add the onion and garlic to the pan. When the onions and garlic begin to brown, add the spinach, olives, cherry tomatoes, and artichoke hearts along with some fresh oregano leaves. Continue cooking until the spinach is wilted and the tomatoes burst.
Slice the cooked chicken into thin strips and add to the pan.
Drain the pasta and add a drizzle of olive oil, salt, pepper, and some oregano if you want. Toss the pasta with all of the veggies and chicken in the pan.
Top with feta cheese and additional fresh oregano and serve immediately.