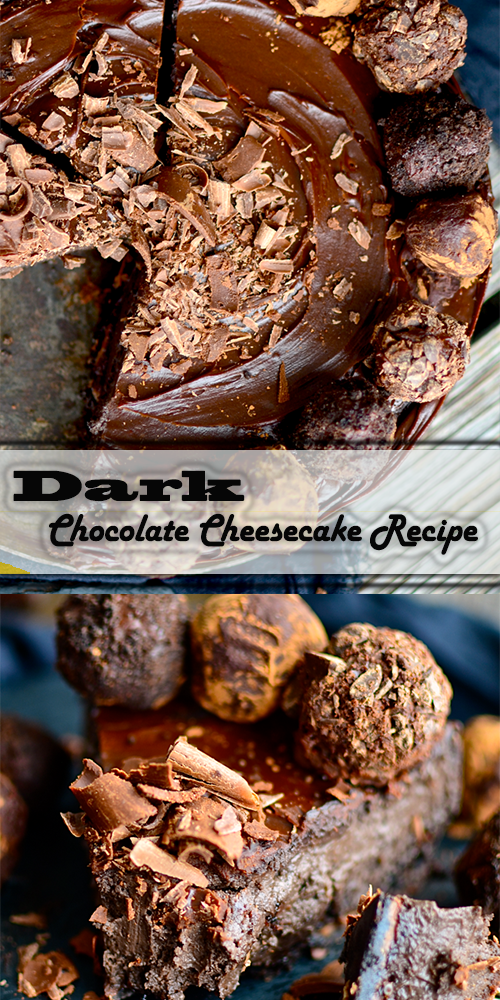 Last week I was trying to decide what to make to post for you guys.
"Cheesecake!" my siblings pleaded, "Please, we'll do anything!"
After days of being harassed by the ravenous horde, I finally agreed.
But everyone had different ideas of what exactly this cheesecake should be.
"Raspberry. Please."
"Oreo! I only like Oreo!"
"Do not put caramel on it. I hate caramel."
Finally I just said, "Okay, well since none of you can agree I'm just doing something that you'll all hate!"
So here it is. A rich, creamy, dark chocolate cheesecake topped off with a buttery, boozy Kahlúa ganache which I also made some truffles out of. The Oreo crust is covered with a layer of milk chocolate (because once you've had a chocolate covered crust, there's no going back).
As it turns out, my plans of punishing them with an unsatisfactory cheesecake were ruined. They all loved it.
"Hey, have you posted this cheesecake yet?" my brother asked, strolling into my room with a plate of the cheesecake in hand, hardly getting his words out between greedy mouthfuls, "Because you should tell your blog people that even people who hate cheesecake will eat two huge pieces in one sitting."
"They'll just think you're a freak for hating cheesecake," I said.
This is also the brother who proudly texted me a close-up picture of his egg salad sandwich on squished Wonder Bread yesterday.
"Wow, nice," I said, "I'm going to post that."
"Really?!"
Dark Chocolate Cheesecake Recipe

About 20 Oreos (I used gluten free Oreos)
3 tablespoons melted butter
1/2 cup milk chocolate chips (optional)
16 oz. softened cream cheese (two packages)
3/4 cup white sugar
1/3 cup cocoa powder (I used Hershey's Special Dark)
3 eggs
1/2 cup sour cream
2 teaspoons vanilla
Preheat panggangan to 300ºF.
Crush the Oreos and add the butter. Press into the bottom of an 8-inch springform pan (I didn't go up the sides at all). You can try different pan sizes if you want, but you might have to adjust the baking time.
Melt the milk chocolate chips, if using, and spread over the crust (or you can just sprinkle the chocolate chips onto the crust, throw it in the panggangan for a few minutes and then spread them around).
Mix the softened cream cheese, white sugar, and cocoa powder until smooth (I didn't use a mixer, I just did everything by hand). Add one egg at a time and then the sour cream and vanilla. Mix until smooth. Pour into prepared crust.
Place the pan on a baking sheet and wrap the 8-inch pan in a wet dishtowel (this helps the cheesecake to bake evenly). Just get the dishtowel wet, squeeze it out and wrap it around the pan.
Bake the cheesecake for 1 hour and 15 minutes or until only slightly jiggly.
Allow to cool for at least an hour and then refrigerate until cold. Top with ganache and truffles. You can also put some chocolate shavings in the middle.
Kahlúa Truffles/Ganache:
1/2 cup butter
1 1/2 cup chocolate chips (I used semi-sweet)
1 teaspoon vanilla
1/3 cup Kahlua (or you can sub heavy cream)
Crushed Oreos, cocoa powder, and/or finely chopped chocolate for rolling
Combine the butter and chocolate chips and microwave on 50% power, stirring every 30 seconds until smooth and melted. Add the vanilla and Kahlúa and stir well. I used about 1/3 of this mixture as a ganache for the cheesecake, so if you want to do that, pour it onto the cheesecake now. Otherwise you can just make extra truffles!
Place the remaining mixture in the freezer or refrigerator until solid.
Use a melon baller to scoop out balls and roll each one in Oreos, cocoa, or chopped chocolate.