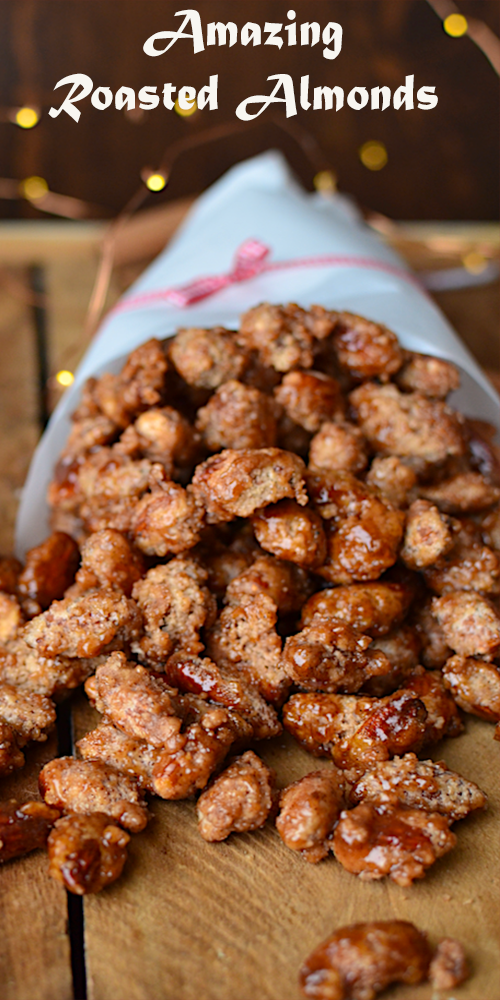 Christmas time is the time I find myself pining away for our old life in Berlin the most. Why?
Christmas markets.
I introduced you the "Weihnachtsmarkt" (aka Christmas Market) in this post last year where I shared with you a recipe for Christmas market "Glühwein" (mulled wine). But even with my "Herrnhuterstern" from the market hanging in my window and a warm mug of Glühwein in my hands, something was still missing.
The smell of those amazing candied almonds! That's what I needed.
I found this recipe on a German food blog for "gebrannte Mandeln" (roasted almonds) and they looked perfect. So I set to work converting it to our American measurements and figuring out what's in "lebkuchen spice" (not to mention putting it into English).
Now you may know, I embarrassingly never got good at speaking German while living in Germany. Every time I attempted to have a basic conversation with someone (I'm talking like "hi, how are you? Fine, thanks. Bye.") I would run away totally embarrassed and want to hide in a hole for the rest of my life.
Yes, my basic German conversational skills after 1 1/2 years in Berlin were nil, but my recipe reading skills on the other hand… flawless. Typical.
And also, lucky for you. Because that's how you got the mulled wine recipe and that's how you're getting this recipe today.
And yep, the following is the extent of my video blogging skills.
This is just a compilation of snippets from my Instagram stories, but I wanted to share them with you just so you know what it's supposed to look like through the different stages.
2 cups granulated sugar
1 cup water
1 teaspoon ground cinnamon
A slightly heaping 1/4 teaspoon ground cloves
1/4 teaspoon ground allspice
1/4 teaspoon ground coriander
1/4 teaspoon ground cardamom
1/4 teasoon ground ginger
1/8 teaspoon ground nutmeg
1 teaspoon vanilla extract
3 cups almonds (if they aren't salted, add about 1/4 teaspoon of salt in the with spices. Even if they are salted, you can add more salt to taste once they're cool enough to taste.)
Line a baking sheet with lightly greased parchment paper and set aside.
Combine the water, sugar, and spices in a large non-stick pan. (I also added a star anise because I had a bunch, but it's okay if you don't. In fact, these will still be delicious if you are missing any of the spices, or even all of them!).
Bring the mixture to a boil.
Add the nuts and vanilla. Lower to medium heat and continue stirring occasionally. When the water is gone, the sugar will get kind of sandy looking and dry. Keep stirring and watch closely at this point. Just when you start getting a little bit of shiny glaze on your nuts, remove them from the heat and pour onto the prepared parchment covered pan.
Separate the nuts with a spatula as the cool so they don't clump together. Enjoy!
Note: this recipe is easily halved our doubled. You can do the math yourself though.