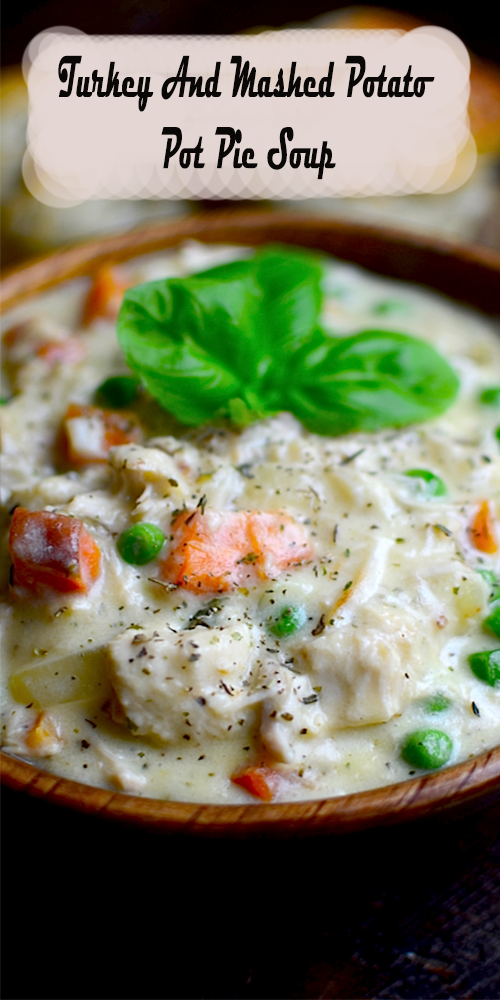 Well, as usual, I didn't post any Thanksgiving recipes for you guys leading up to Turkey Day, but I'm here just in time to help you out with the perfect recipe to use up all those Thanksgiving leftovers!
Really, I don't know what it is about me and not being able to post holiday themed recipes. I always feel like I really should. I just get a stress attack when I try to limit my ideas to turkey, pumpkin pie, potatoes and stuffing. It's way too overwhelming. I just see all of them flashing through my mind in succession over and over with a grand finale of this Seinfeld clip, until I go into a holiday coma where I can't think of any good ideas.
But, as I said, I got out of the coma just in time this year to make you this soup! I just made half a batch because I didn't want to have a ton of Thanksgiving leftover leftovers, but if you've still got all your family hanging around today, make the whole thing. Or double. Or triple.
Anyway, this was the first Thanksgiving I ever had outside of the USA, so I decided to give these foreigners (or wait… I guess I'm the foreigner…) a taste of a real American Thanksgiving. We had representatives from FIVE different countries at our table yesterday, a German, a Finn, two Iranians, an Afghan, and of course two Americans (that would be me and Samuel). I hope I gave them an accurate idea of what Thanksgiving is supposed to be like, even though my pumpkin pie crust totally stank! Too bad I had to leave my pie crust making sister back in the U.S. Next Thanksgiving I'm flying you over here, lady!
Anyway, about this soup. It will help you use up lots of your leftovers. I used up some turkey, mashed potatoes, and roasted carrots. Samuel also ate the last of the Parmesan Herb Rolls he made. You could also spread some cranberry sauce on those rolls or throw some of your gravy in the soup. Or use leftover stuffing for croutons! Okay, maybe I'm getting a little excited, but seriously, you should make this soup.
Turkey and Mashed Potato Pot Pie Soup

 Serves about 4
3 tablespoons butter butter
1 medium yellow onion, chopped
3 gloves garlic, minced
2-4 chopped celery stalks (I left this out because I didn't have any)
2-4 big copped big carrots (I used leftover roasted carrots)
1 1/2 cups chopped or shredded cooked turkey (chicken also works!)
1 1/2 cups half and half (milk also works)
1 1/2 cups chicken stock
3 tablespoons all-purpose flour, mixed well with 1/3 cup water (GF Flour also works)
1 cup mashed potatoes
1 teaspoon herbes de provence (or Italian seasoning)
1/2 cup frozen peas
Salt, pepper, and garlic powder
Melt the butter in a pot over medium heat. Add the onion, garlic, celery, and carrots and cook until softened and browned. Add the turkey.
Add the half and half, chicken stock, flour mixture, mashed potatoes, and herbs. Continue to cook, stirring constantly, until bubbly and thickened.
Add the frozen peas and cook until they are completely thawed. Season to taste with salt, pepper, and garlic powder.