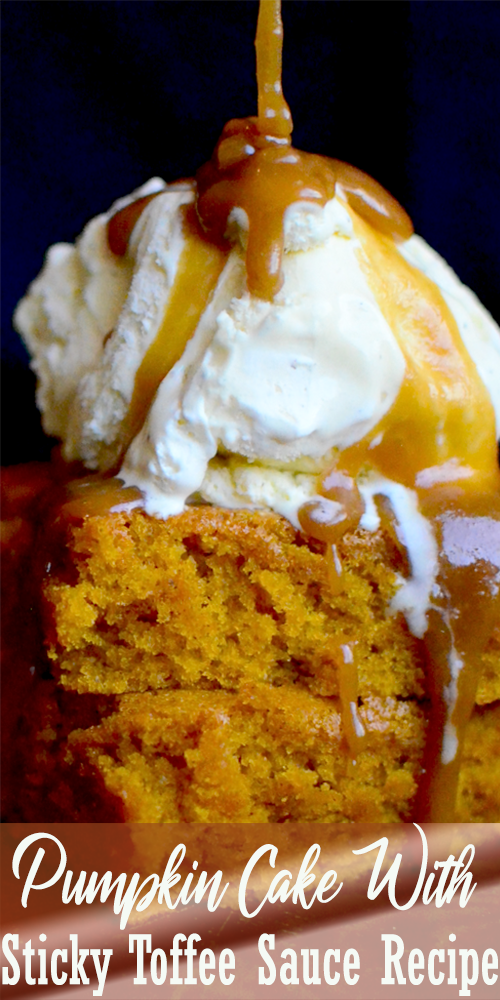 Okay guys, one last pumpkin recipe and then we can move on to Christmas. I just had to get rid of this last bit of pumpkin from my Thanksgiving pumpkin pie. And when I say "had to get rid of", what I actually mean is "had the pleasure of devouring". It's always a pleasure to find a new way to use Grandma's famous pumpkin bread recipe. I've made carrot cake with it, banana bread muffins, and pumpkin cupcakes. It is always perfect. It's moistness, fluffiness, deliciousness and Grandma-tried-and-true-through-the-decades-ness can't be beat.
Sorry. My made up words are getting longer. Unless Grandma-tried-and-true-through-the-decades-ness is actually a real word. I guess it's from living in Germany. I mean, Donau­dampf­schiffahrts­elektrizitäten­haupt­betriebs­werk­bau­unter­beamten­gesellschaft is a legitimate word
here. So really, what I do isn't so bad.
Anyway, what really makes this cake is the sticky toffee sauce. I actually stole it from one of my favorite desserts, sticky toffee pudding. It's basically just a thick, gooey caramel made with brown sugar. And since they have no brown sugar here (I know, it's a crime), I made my own with sugar and molasses.
I actually like to throw a little corn syrup in whenever I make caramel so that it doesn't crystallize. I'm actually not the caramel making pro you might think I am. I don't have the patience it to cook to the right temperature with the right tools and stir the right way at the right time so that I don't destroy the fragile sugar crystals. Instead, I like to use a little corn syrup to protect them.
Unfortunately corn syrup is another item that is nonexistent in Germany (although you can't really blame them for this one), so as you can imagine, this caramel crystallized into one big crunchy mass shortly after I took the pictures.
I did find a place where you can buy American foods in Berlin though. There's corn syrup, Jif peanut butter, Crisco, Reese's Puffs, Pop Tarts, pancake syrup, chocolate chips and other various American necessities. It was a glorious sight for my American eyeballs.  The prices seemed to be a little outrageous though at about 10 bucks for a box of Cap'n Crunch. They were all so close, and yet so far away.
I did make out with a couple of Reese's Cups though, which is really the most important thing. Samuel ate his immediately in one ravenous bite as soon as he knew that they were in the house. I'm saving mine for an emergency.
In the meantime, I'll eat this pumpkin cake. And so should you.
Pumpkin Cake With Sticky Toffee Sauce

For the Cake:
1 cup pumpkin puree (get the recipe for your own pumpkin puree here or use a can)
2 eggs
1/2 cup vegetable oil
1 teaspoon vanilla
1 cup sugar
1 cup all-purpose flour (a gluten free all-purpose mix or even just plain rice flour work great!)
1/2 teaspoon salt
3/4 teaspoon baking soda
1/2 teaspoon baking powder
1 teaspoon ground cinnamon
1/2 teaspoon ground ginger
1/4 teaspoon ground nutmeg
1/8 teaspoon ground cloves
For the Sticky Toffee Sauce:
1/2 cup butter
2/3 cup heavy cream
1 cup brown sugar
1/4 cup corn syrup (optional to prevent crystallization)
Preheat panggangan to 350ºF (180ºC).
Lightly grease an 8×8 inch pan or line with foil or parchment.
Combine the pumpkin, eggs, oil, and vanilla. Add the sugar and mix well.
Combine the flour, salt, baking soda, baking powder, and spices. Add to the wet ingredients and mix just until combined.
Pour into the pan and bake for about 30-40 minutes or until a toothpick comes out clean.
Meanwhile, to make the sauce, combine all the sauce ingredients in a saucepan and cook on medium heat until it boils, stirring frequently. Boil for about 3-4 minutes or until thickened slightly. Serve warm cake with ice cream and warm sauce.