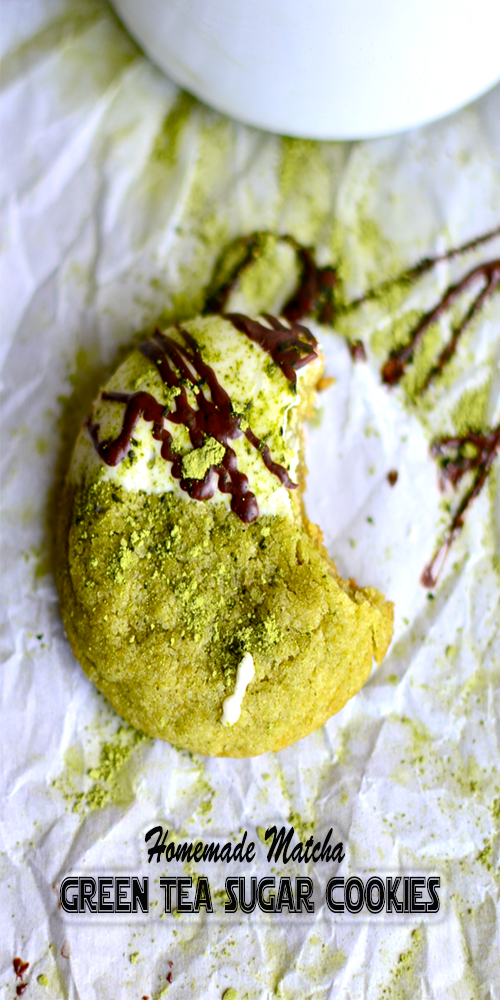 No, these are not made of seaweed, as my brother assumed, but out of the wonderful, heavenly substance of matcha green tea powder.
I first discovered matcha at Starbucks. I always ordered a green tea latte. Of course I decided if Starbucks can do it, so can I, so I set to work trying to make myself a green tea latte at home.
The perkara was, I had no idea how to make a green tea latte. I probably used up a billion bags of green tea, thinking that if Starbucks somehow magically transformed regular green tea into the rich, green drink I loved, so could I.
Well, the reason I was having so much trouble is because Starbucks doesn't magically turn a bag of green tea into a green tea latte. They use matcha powder.
Matcha is actually ground green tea leaves. So when you're drinking matcha, you're actually eating the whole leaf. No wonder it tastes like you're eating nature. Supposedly it has about a million times more antioxidants than regular tea and gives you a boost of energy without caffeine. I don't know if that's true, but I do know that I love it and it's absolutely delicious. You can use it for frappés, smoothies, lattes, ice cream, or I mix into desserts like I did today.
I bought my matcha on Amazon here
. You might think it's a big price for such a small amount, but I've had mine for over a year and it's still not gone. Either some miracle is happening that it never goes empty or it's just the fact that you only have to use about 1/2 teaspoon every time you want a latte. So anyway, I guess it was a pretty good investment. I just keep it in the fridge so whenever the urge strikes I don't have to go empty my wallet at Starbucks.
Just so you know, I just typed "walnut" instead of "wallet" accidentally and just about choked to death laughing for five minutes straight. I need to get a life.
And don't worry, someday I'll show you the basics of making an awesome matcha latte to go with your cookies!
Homemade Matcha Green Tea Sugar Cookies
Makes about 2 dozen cookies
1/2 cup softened butter (1 stick)
2 teaspoons matcha powder (I bought my matcha here)
3/4 cup white sugar
1 teaspoon vanilla extract
1 egg
1 1/4 cup all-purpose flour
1/4 teaspoon salt
1/2 teaspoon baking soda
3/4 cup semi-sweet chocolate chips
3/4 cup white chocolate chips
Preheat panggangan to 375ºF.
Mix together the butter and matcha until smooth. Add the sugar and mix until smooth. Add the vanilla and egg and mix just until combined.
Mix together the dry ingredients and mix together just until combined.
Scoop rounded spoonfuls onto an ungreased cookie sheet. Bake for about 7 minutes or until the edges just begin to look a little brown. Allow to cool before dipping in chocolate.
Melt the chocolate chips in two separate bowls (turn the microwave power down to 50% and stir every 30 seconds).
Dip half the cookies in the white chocolate and the other half in the semi-sweet and place them on parchment paper. Then drizzle the remaining chocolate on top. Sprinkle with a little more matcha powder if you want.