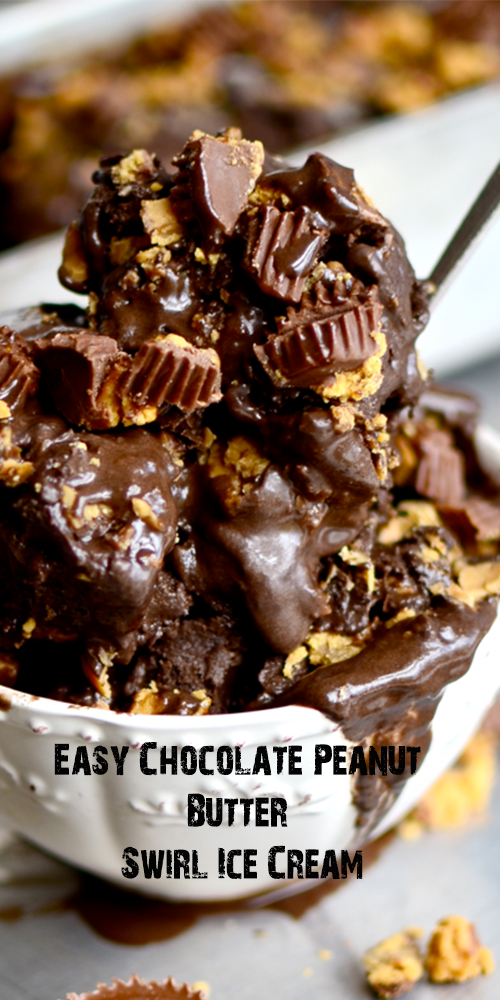 So yeah. I'm finally making something that actually goes with the season. Believe it or not, this is not a bowl of soup. Aren't you proud?
Stupid question. How could you not be proud of this dripping, chocolatey, peanut buttery pile of Reese's bliss?
Seriously though, it is so hard for me to make things that actually go with seasons and holidays. I see all the other food blogs posting wings and dips at Superbowl time and sugar cookies and fudge at Christmas and I'm just like, "Hey, I'm eating a bowl of chili and hot chocolate in the middle of June. Yay."
Not that I would never turn down a big bowl of rich and creamy homemade chocolate peanut butter ice cream on a swelteringly hot day if it was offered to me. It's just that… I'm lazy. I don't always feel like tempering eggs, and stirring custard on the stove, and waiting centuries for it to cool enough till I can put it in the ice cream maker.
That's why I made this ice cream super easy. That way I can be lazy and eat tons of sugar and chocolate and peanut butter all at the same time. Problem solved. The end.
Easy Chocolate Peanut Butter Swirl Ice Cream

Chocolate Peanut Butter Ice Cream:
1/2 cup Dark Cocoa Powder
1 cup peanut butter (I've used creamy and crunchy)
1/2 cup brown sugar*
3 cups cold milk (I used the coconut milk that comes in a carton, but regular old dairy milk would be fine too)
1 tablespoon vanilla
Peanut Butter Swirl:
1/4 cup peanut butter
1/4 cup coconut oil (butter should also work, but coconut oil is better because of it's low melting point)
2 tablespoons brown sugar*
1 teaspoon vanilla
Reese's Cups (or this dairy free alternative)
Directions:
In a microwave safe dish, combine the cocoa powder, peanut butter, sugar, and 1/4 cup of the milk. Cook in the microwave, stirring occasionally until the peanut butter is melted.
Slowly whisk in the remaining milk, a little at a time, until all of it is incorporated and mixture is smooth. Add the vanilla. If it's too warm, chill for a little while (it should be about 40ºF).
Churn in your ice cream maker (I have this one which does all the work itself)
While the ice cream is churning, make your peanut butter swirl. Combine the peanut butter, coconut oil, brown sugar, and vanilla and microwave until melted and smooth.
When the ice cream is done, place it in a container (a wider container is best) and pour some of the peanut butter swirl on top. You only want a very thin layer. It should freeze quickly, but if it doesn't, put it in the freezer for a few minutes. Then fold the ice cream to incorporate the swirl. Repeat this process until you've used all of the peanut butter swirl.
Freeze for at least 3 hours for it to harden. Serve with Reese's Cups (you can either sprinkle them on top or you can stir some in while you're stirring in the peanut butter swirl).