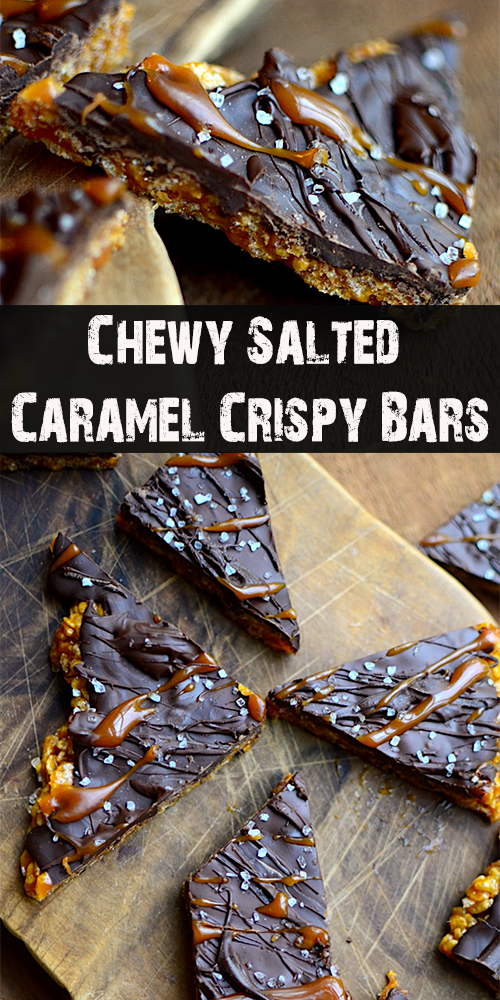 I am currently one-finger typing this as my  baby tries to escape and wreak havoc on the house. He is crawling less like a drunken possum and making more distance every day.
Therefore, you can rest assured that these bars are EASY to make. Otherwise, I could not have made them.
If you're down for a crispy and chewy, sweet and salty, dark chocolate covered treat, these are for you. Enjoy.
Chewy Salted Caramel Crispy Bars 

1/2 cup granulated sugar
1/4 cup light corn syrup
3 tablespoons salted butter
3 tablespoons heavy cream
1/4 teaspoon vanilla
1 1/2 cups Rice Krispies (you can get gluten free ones if you need to)
3/4 cup chocolate chips (I used these dark chocolate chips)
Coarse salt (I used this salt)
Lightly grease an (at least) 8×8 inch sheet of parchment. Set aside.
Combine the sugar and corn syrup in a heavy bottomed saucepan. Cook over medium heat, stirring occasionally. It will boil and turn a honey color and then it will turn a caramel color. As soon as the dark caramel color appears, remove the pan from the heat.
Add the butter and cream (be careful, it will bubble up!). Stir until the caramel is smooth. Add the vanilla and mix it in well. Reserve a tablespoon of the caramel for the top (optional).
Fold in the Rice Krispies and then pour the mixture onto the parchment paper. Press it out to a 7 inch square.
Melt the chocolate chips and spread evenly over the bars. Sprinkle with coarse salt before the chocolate hardens.
After the chocolate hardens, you can drizzle on the remaining caramel (I also melted an additional 1/4 cup of chocolate chips to drizzle on after it hardened).
Cut into bars and store in an airtight container.