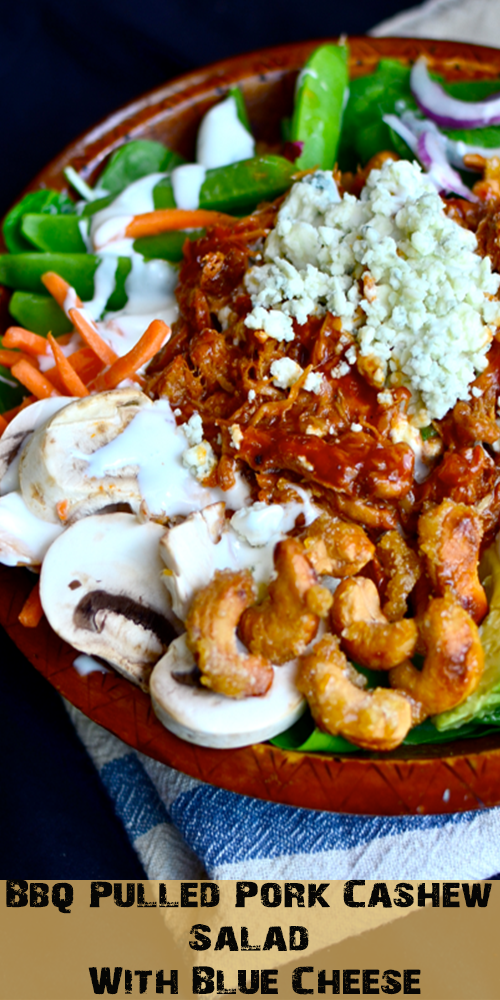 I know. You guys are always so surprised whenever I post something that has less than five pounds of sugar in the recipe. Don't worry, I sugared up the cashews. We're good.
I used to be one of those people who wouldn't touch a salad with a ten foot pole. Even now a piece of lettuce with Hidden Valley Ranch is not my cup of tea.
In my old age though, I have changed my stance on salads. As long as the hidden valley remains hidden and the cherry tomatoes are always sliced (the goop explosion in your mouth of whole cherry tomatoes is to be avoided at all costs) we're good.
P.S. My sister made up the barbeque sauce recipe and my aunt discovered the salad so other than some tweaking I really am not responsible for anything here. I did make that raspberry iced tea in the pictures though, so that's gotta count for something (pretend like I didn't make it from a mix).
By the way, sorry for not being exact with my measurements. I am what I am.
BBQ Pulled Pork Cashew Salad with Blue Cheese

Pork Roast, shoulder cut (Maybe about 5-7 lbs?)
About 2 cups of Barbeque Sauce (recipe below or just Sweet Baby Ray's or something)
1 cup Cashews
1/4 cup Brown Sugar
1 tablespoon Butter
Sliced Mushrooms
Snap Peas
Match Stick Carrots
Red Onion, sliced
Avocado, sliced (put some lemon juice on it to prevent browning if you want)
Chunky Blue Cheese Dressing
Blue Cheese Crumbles
Spinach
Put the pork roast in the crockpot with barbeque sauce. Cook for maybe about 7 hours on low or until it falls apart. Tear it all apart and add more barbeque sauce if you want.
Grease a piece of parchment paper (or foil or whatever). Put the cashews in a pan on the stove. Add the sugar and butter. Cook on about medium heat, stirring until the sugar is melted. Pour the cashews onto the parchment, spreading out evenly. Allow to cool before you assemble the salad.
Throw the mushrooms, snap peas, carrots, onion, avocado, and cashews on the spinach. Put a scoop of pulled pork in the middle (it can be hot or cold) and sprinkle with blue cheese crumbles and blue cheese dressing.
BBQ Sauce Recipe:
1 1/4 cup ketchup
1 cup Heinz Chili Sauce
1/4 cup maple syrup
1/2 cup apple cider vinegar
1 tablespoon Worcestershire sauce
1 tablespoon molasses
1/2 teaspoon chipotle pepper powder
1 teaspoon smoked paprika
1/2 teaspoon garlic powder
1/8 (or more) cayenne pepper
1/8 (or more) chili powder
1/2 teaspoon liquid smoke
2 tablespoons This Sweet & Smoky Rub (I think we actually got it at Sam's Club)
1 tablespoon cornstarch
Whisk everything together in a microwaveable bowl or in a pot on the stove. Bring to a boil. If you don't have some of the weird ingredients, feel free to leave them out and tweak this to your heart's content.